Library
Sardar Patel Vidyalaya has two libraries. The senior school library is an open shelf library surrounded by Ashoka trees, it has a modern look and is well lighted. A qualified librarian and an attendant fulfill the academic needs of 1600 students, 200 teachers and administrative staff in their project and research work.

The library is well stocked with a collection of 40,000 books, subscribes to 25 of current affairs magazines and 6 daily newspapers There is a fairly large collection of Reference books.

The Junior School library with a collection of 5,000 books is more informal and low tables and floor cushions provide children easy access to books.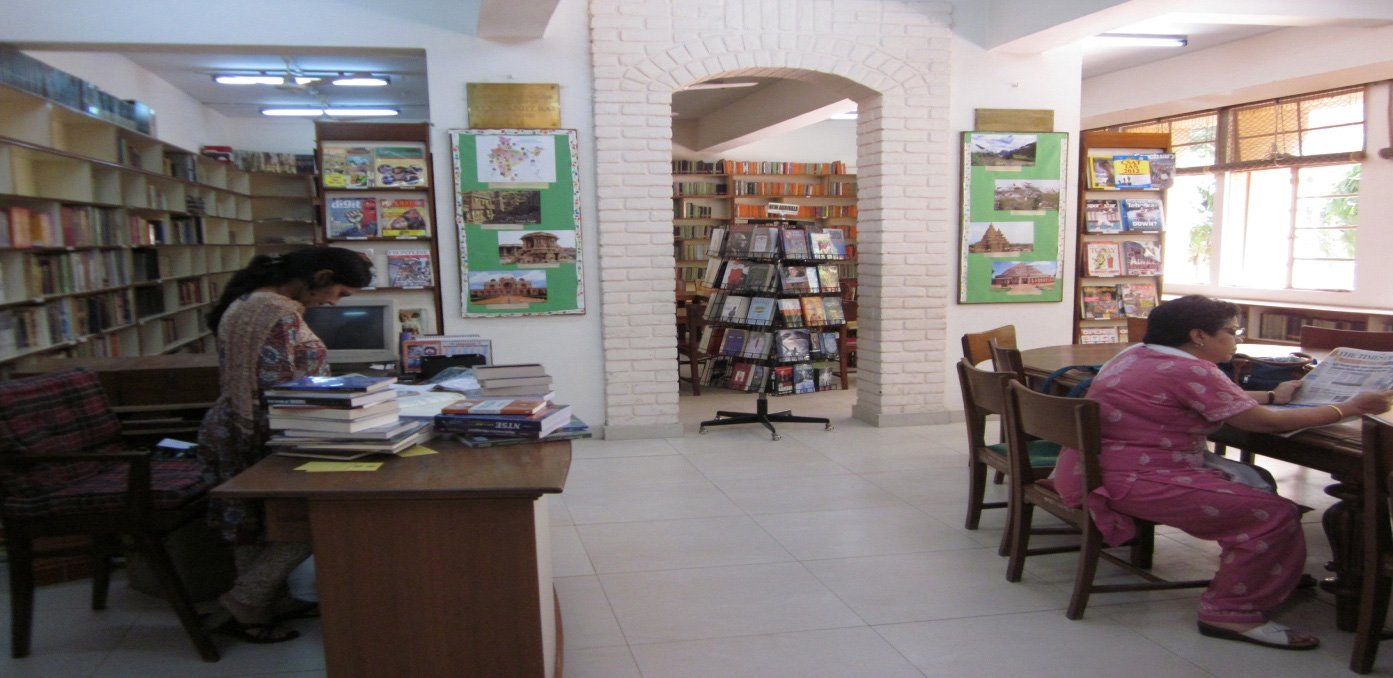 Art & Craft Center
The School lays great emphasis on Art Education which includes exposure to the various domains of Art and Craft - Sketching, Painting, Poster Making, Clay Modeling, Wood Craft etc. - for a true coordination of 3 Hs - Head, Heart and Hand.

The School is equipped with a Clay Modeling Studio and an updated Wood Craft centre. The clay modeling studio is equipped with an electric kiln and a potters wheel.

We regularly invite, as visiting faculty, eminent artisans to teach children Glass Painting, Design and Puppetry.The portals of the school canteen are adorned with 'katchii work'done by master crafts person Gauraben and students of the art group of the current class XI.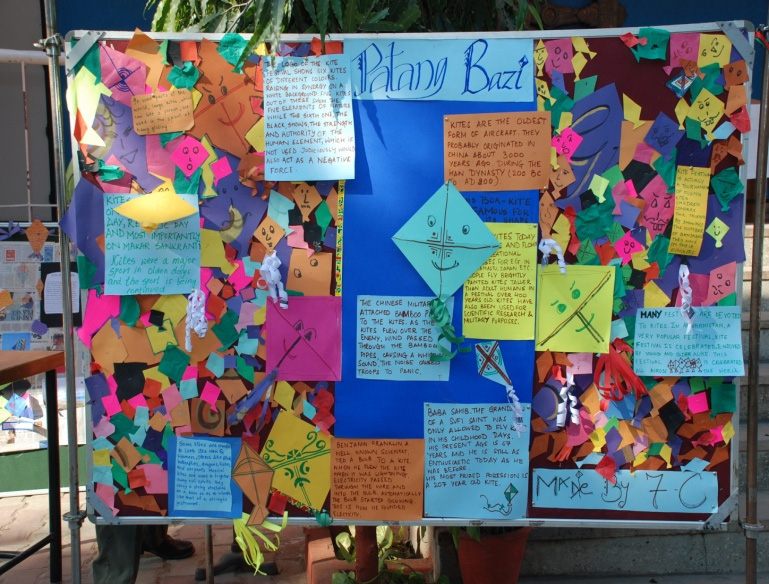 Career Guidance
A series of lecturers, some visits and one-to-one dialogues are organised to expose pupils to the vast range of careers open to them. Speakers are experts in their own areas of specialization and thus can talk with authority on problems as well as prospects in vocations/professions of their choice. The talks also include mundane but essential data on institutions in our country which offer suitable courses, financial implications, eligibility criteria for admission, mode of application and selection etc.

A concerted effort is made to expose the senior school pupils to a wide spectrum of careers, emphasizing all the time that – it is more important to do what one enjoys doing rather than do something only because of familial and social pressure, - careers are proliferating and many new ones will arise for pupils to choose from as they grow up. Continuing Education after formally ending it, thus becomes very important for awareness and professional growth.

There are many more career options today than 15 years ago. With the help of aptitude tests, combined with the pupils achievement profiles in school, the school Counsellors guide them more activity at the "Plus Two" stage although inputs commence at class IX.
Auditorium
A large air cooled auditorium with a seating capacity of 1000 students and good acoustics is the heart of facilities at the Vidyalaya.

From Students' Executive Meetings to Cultural Events or Morning Assemblies or CA periods for classes or talks and discussions with larger student groups the auditorium is always bustling with activity.
Physics and Biology Lab
The Vidyalaya is a sturdy building which houses sixty regular class rooms and a large auditorium, well-equipped laboratories for Physics, Chemistry, Biology, Home Science and a Science Activity Centre, a Maths Activity Centre, a Computer Unit, a spacious library with over 25,000 volumes, rooms for music, art, dance, theatre a studio for clay-modelling, and provisions for ikebana, bakery, food preservation, a counselling unit, staff rooms and a well-stocked canteen
Indoor /Outdoor Activities
Indoor Activities like Clay and Plasticine modeling, stringing beads, stitching, drawing and painting, printing, cutting, pasting, tearing, playing with pre-school apparatus, etc. involve students the primary and senior school.

Clubs for the Middle School, and Work Experience for the Senior School is SPV way to help children learn new skills in the Arts, Music, Theatre, Clay Modeling, Crafts, Cooking and Computer basics. The activities are carried out in specially designated rooms.

Outdoor Activities like Yearly Class Trips, Visiting Monuments etc of historical importance are a part of the school.